Company profile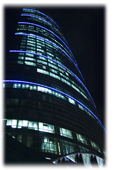 Automasoft was born from the experience acquired in the years in the software development for the industrial automation and of the supervision systems. The constant updatings with the new technologies, and the solidity of the developed applications they make her competitive in the sector.
His ability in to develop the software for PLC systems, PC systems and Microcontroller it allows the on the clients to have a versatile and effective partner in the problem solving. Exploiting these knowledges Automasoft has been able to introduce on the market different drivers and software for the communication with industrial and process control.
The philosophy on which the firm founds him is: simple and direct solutions for an effective and solid result.